Couri Vine creators will be at STAPLE! Independent Media Expo
The Couri Vine co-creators, Vanessa Shealy and Leah Lovise, will be at STAPLE! Independent Media Expo on September 8 & 9. Please come on out and meet us, along with all the other exhibitors!
Leah has been exhibiting Couri Vine at STAPLE! since 2015, when she brought a small print run of Book 1 and sold out our very-first-ever 50 copies. Since then, each year a subsequent Couri Vine Book has made it to our table at the expo.
This year both Leah and Vanessa will be at STAPLE!, and we have a new Couri Vine Book 4 preview ready, as well as our previous books, lots of art, and a new-and-improved Moon City display that has some really fun new surprises. We hope to see you there!
We'll be at Table #75  at the Millennium Youth Entertainment Complex in Austin, Texas on Saturday (11am-6pm) and Sunday (12-6pm).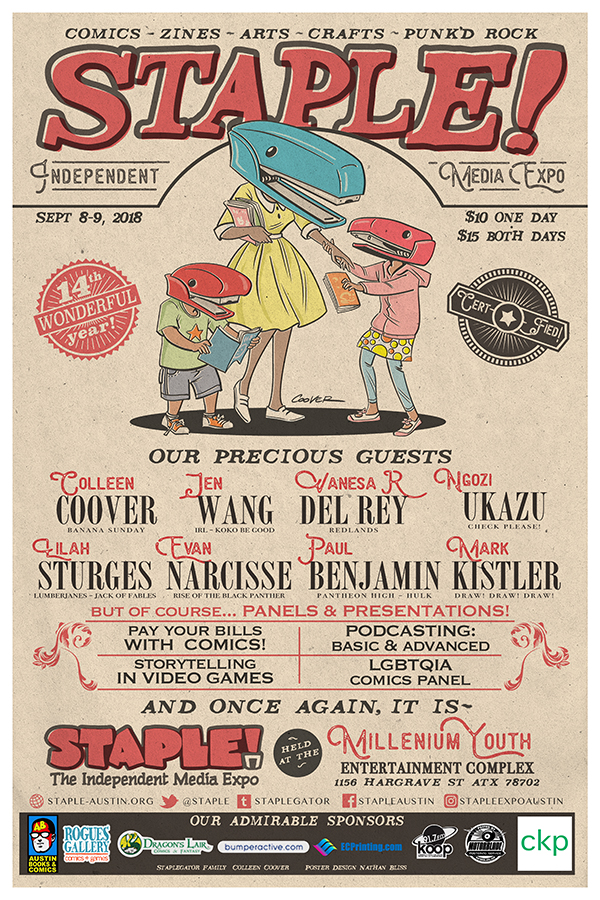 See the full list of exhibitors and the panel schedule here >  http://bit.ly/2KJ6j6k