And we're off! This week we're launching our Kickstarter campaign!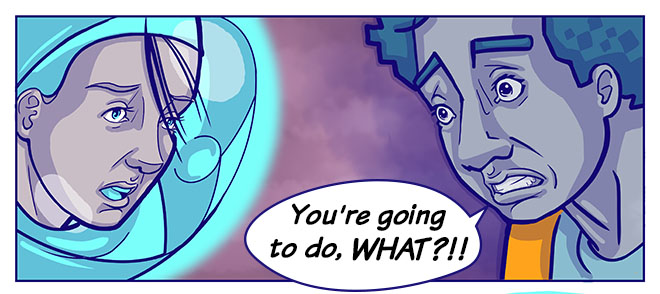 That's right – we're going for it. We're completely finished with COURI VINE: Young People for the Leader, and we want you to have a copy! So we're creating a Kickstarter with a copy of this comic book as the PERK that you will receive for any donation above $20.

Because we're passionate about this comic book!
We decided early on that we wanted to make an action-packed adventure story about a young person who is hiding from her disability, who then discovers that her difference can become her superpower. We're personally inspired by this goal; Vanessa is the mother of a child with autism, and Leah's father was wheelchair bound due to muscular dystrophy. These two heroes in our lives inspire us and instill endless admiration. We hope that our science fiction story will speak to children and adults who live with challenges of all kinds.
Our Kickstarter is for $3000 so that we can print 1500 print copies. With that many copies, we can sell them (online and at festivals), submit them to publishers, and, most of all, entice people to support us as we work on the next three books, which together make up the first complete COURI VINE Story.

Here's what we plan to do with it:
$1,798 – this is the quote we selected from One Touch printers for 1500 saddle-stitched copies of the 28 page book.
$300 for Kickstarter and credit card fees (about 10% of our total goal).
$100 for taxes (that's 25% of anything non-deductible).
$600 mailing and postage.
$100 web hosting and marketing.
Which brings us to $2,898, so, in Kickstarter world, that means we better round it up to $3,000, since there's probably some fees that we didn't know about. Plus, we like round numbers.
Notice that we aren't taking any money for ourselves, or putting aside any money for our collaborators. We've been funding this project ourselves for the past 2 years. If we exceed our Kickstarter goal maybe we can finally pay down some of these nasty credit cards we've been living on.

You'll get more info on our Kickstarter page, but these are the PERKS that come with donations at various levels:
$20 =  the comic book!
$40 =  the comic book…signed by the creative team!
$80 = the comic book…signed…with a big THANK YOU to you printed inside the book.
$160 = one of Leah Lovise's original drawings! Plus all the stuff above.
$320 = we will make YOU one of the characters in Book 3! Plus all the stuff above.
That's a lot of great perks if you ask me. Once our Kickstarter page is live, there will be a link to it right HERE!
We hope you'll contribute. We want you to have a copy, like this guy: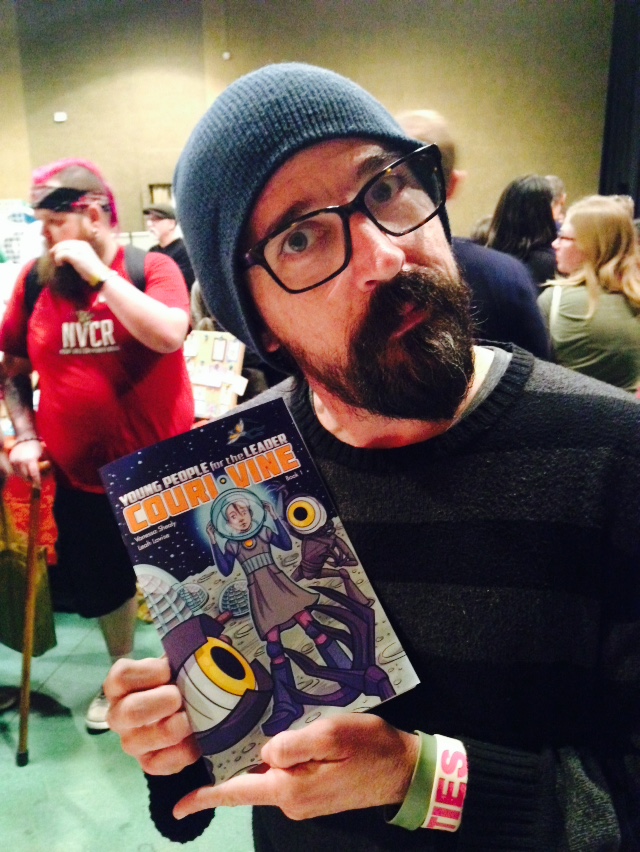 This charming chap (aka, Marty Percy) is holding one of the 50 copies that we printed for the STAPLE! Independent Media Expo in Austin, TX, where we SOLD OUT immediately. Of those 50 copies, here's what @s_orem said about the copy she bought:
"Probably the most exciting to me is Couri Vine by Vanessa Shealy and Leah Lovise. It's about Couri, a young girl with a disability who "discovers that her difference can become her superpower."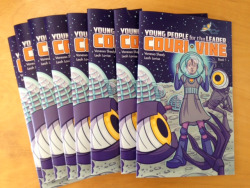 What happens after this Kickstarter? 
This Kickstarter is for part one of a four part series, so we really need a Kick in the Start to get this going in a way that we can sustain. We're already working on books two, three, and four, and we plan to release each book on a digital platform, followed by a limited printed run. Below are blurbity blurbs for each of the subsequent books:
Book Two: Journey to the Planet Earth
Couri travels to Earth, where she finds Doo Dad's InData device, but is pursued on land and sea by the evil Anaxia Nervosa.
Book Three: Hostages
Couri learns the origins of a dangerous compound, Sathrite. Enforcers seize her and transport her to the Near Side of the Moon where Moon Leader Todal reveals his evil plan.
Book Four: Sacrifice
Couri realizes how she can stop the Moon Leader, but it will do irreparable damage to her life support system. What further damage can Moon Leader Todal do?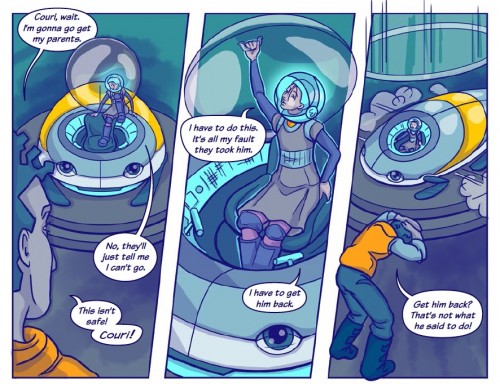 SPECIAL THANKS goes out to the following heroes:
Editor extraordinaire, Angela Pires (AngelakPires.com)
The beautiful young actress, Indya Kevern
Litsa Litsa for voice-over and creative counseling (aLitsa.net)
John McIver (ElephantProductions.com) for shooting and production assistance
Web developer and master of the universe Steven Olson. You're seeing his mastery now. (CouriVine.com!)